Memorial Day is approaching quickly, and the unofficial beginning of summer also marks a big uptick in weekend trips to make the most of the season. Whether you're flying, driving, or taking a train, a tried and true companion on these trips is the humble weekender bag. In the interest of helping you give your weekend trips an upgrade this year, we had Fast Company editors and writers try five bags and give their honest opinion.
Everlane Quilted Weekender
I am in the process of packing up my stuff and moving to a new apartment at the moment and the Everlane quilted weekender bag has proved incredibly useful for carting a ton of clothes back and forth to consign at The RealReal and Buffalo Exchange. It is lightweight and deceptively huge with a lot of different compartments so I can fit a lot in. The minimalist quilted design also looks nice and chic (certainly beats the blue Ikea bag I was using before). It's been marked down on the Everlane site to $86, which feels like pretty good value, especially because it's kind of a two-for-one: it can double up as a pillow on a long flight. —Yasmin Gagne, associate editor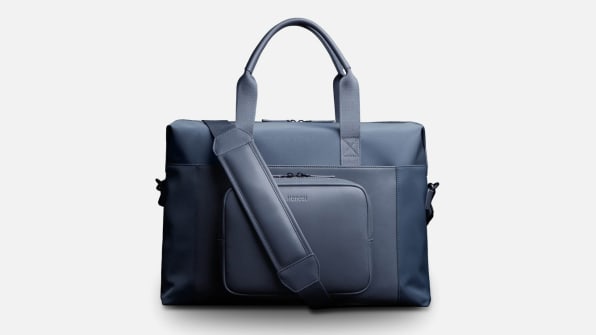 Monos Metro Duffel
There's a lot more to the Monos Metro Duffel than meets the eye. The sleek bag, which comes in four nylon colors and three vegan leather colors, has plenty of storage, both inside and out. I tested the vegan leather version in Saddle Tan, which features interior (super soft) felt made from recycled PET bottles. In addition to an internal zipper pocket, the bag includes a laptop sleeve that will fit up to a 15-inch laptop (or in my case, a 13-inch one and a tablet). The interior also has two side pockets for a water bottle or umbrella (though ideally a short water bottle—my 24-oz. HydroFlask is a little too tall to keep in the bag). On the front is the Monos Classic Kit, a pouch for toiletries or chargers that can detach from the bag and easily be reattached or swapped in with the company's Metro Folio Kit. Also on the exterior are two pockets, one of which zips, and the other of which can easily become a pass-through for the handle of a suitcase. It also has a detachable strap that makes it into a cross-body option. Given the price point, the Metro Duffel is a very good weekender bag for frequent travelers that could also easily pull double duty as a daily carry if you go from the office to the gym. —David Salazar, associate editor
Beis weekender bag
I kept seeing the Beis weekender bag in my Instagram feed and was excited to see if he could replace the less-than-fashionable back pack I'd been using for weekend trips when I didn't need a full carry-on suitcase. I was immediately drawn to the bottom compartment because of the harder structure. Beis advertises it as a great fit for shoes, but I would instead use it for items that I want to keep wrinkle-free like blazers, silks or dresses. I was shocked how much fits into the main compartment, easily enough to pack for two or three days. I also preferred that the interior isn't overloaded with too many pockets. There are enough to be useful but not so many that it's wasted space. Equally impressive, especially for us with New York City-sized closet space, the bag folds up small when empty. The top handles are long enough to go over your shoulder in a pinch and the full shoulder strap is tucked inside if you want to wear cross body. The overall material feels very sturdy, yet not heavy as well. Overall, it's great quality for the price point. I'm now even more intrigued with the company's 26-inch check-in roller that features a weight limit indicator. —April Mokwa, executive managing editor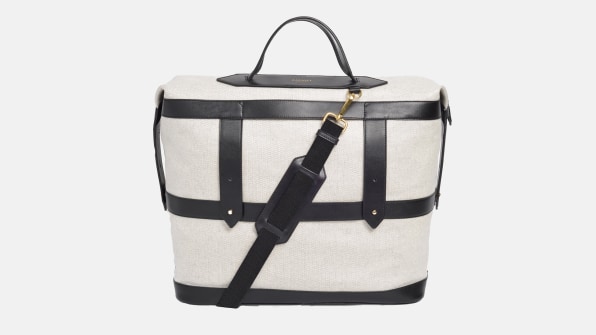 Paravel weekender
I like that Paravel's luggage looks like it rolled right off a Wes Anderson set—a good balance of updated preppy and pragmatic. Like Paravel's other products, the Weekender is sustainably minded: It's made from their own Ecocraft Canvas, a spill-proof, sturdy material made from cotton and recycled plastic bottles. It has nice, thick vegan leather handles and vintage trunk-style straps across its body, which can be used to tether the bag to a rolling suitcase handle or compress the bag into a more duffle-like shape. And the company says it offsets the CO2 emissions through the life cycle of its products, from sourcing up to and including your first trip with the luggage. Despite being square and looking hilariously impractical, it fits a shocking 10 sundresses, with room to spare for a second pair of shoes and a makeup bag. Granted, my sundresses are 90% spandex and the volume equivalent of two T-shirts, but it's still impressive. The Paravel weekender is 15″ x 15″ x 8″, making it slightly taller than your average tote, but TSA carry-on compliant for most major airlines (it's slightly too big for a personal item). My biggest complaint might be the narrow zipper-top, which makes it difficult for packing folded clothing—packing cubes or ranger rolling might be your best bet in this scenario. I also wish it had an outside pocket to keep quick-grab items, like my passport, and more inner pockets to separate liquids or non-clothing items, like jewelry or tech. —Rachel Kim Raczka, contributing writer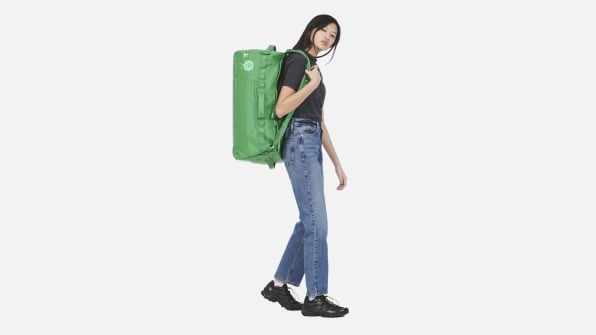 Baboon to the Moon Go Bag
I was confused by the Baboon bag at first, wondering when I was going to want to wear a big duffel bag as a backpack. Turns out, the answer is, all the time. The durable, waterproof bag—I have the big, 60L version—has proved useful on ski vacations and weekends upstate. The straps make it easy to bring up stairs and run through the airport when you are about to miss your flight (I speak from experience). My particular bag is better for a week away—might be a little big for a weekend, but the company has two other size options—the 32-liter Mini and the 40-liter Small—in a variety of colors. —YG
Fast Company's Recommender section is dedicated to surfacing innovative products, services, and brands that are changing how we live and work. Every item that we write about is independently selected by our editors and, whenever possible, tested and reviewed. Fast Company may receive revenue from some links in our stories; However, all selections are based on our editorial judgment.